Build better with
with Sitefinity CMS
As an official Progress Sitefinity Partner, we have extensive experience creating some of the most performant instances of Sitefinity CMS.
We don't have the overhead of a larger partner so the development of your site isn't going to be outsourced or given to a junior developer.
PLATFORM
Why Sitefinity?
Sitefinity CMS is a content management system (CMS) that you use to create, store, manage, and present content on your website. Content and pages in Sitefinity CMS are multilingual and you can use one Sitefinity CMS instance to manage multiple sites that can share content.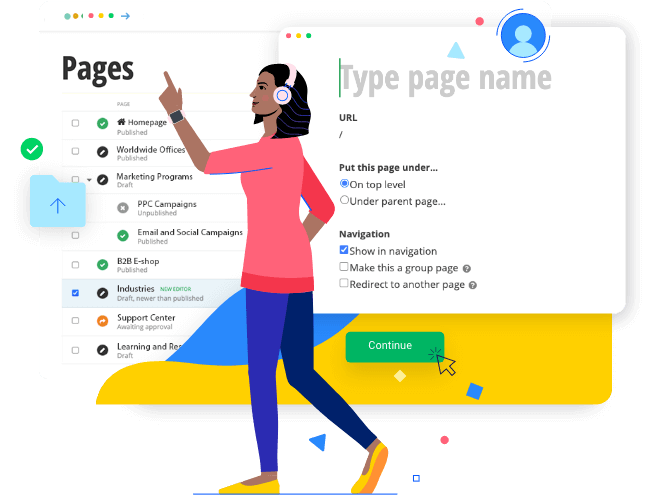 Services
Everything you need to get up and running
With Progress Sitefinity's intuitive, intelligent tools for marketers and flexible, extensible platform for developers, both teams can easily deliver unique experiences that drive ROI and reduce total cost of ownership.
Performance
We pride ourselves on delivering extremely fast Sitefinity instances. If you have a slow site, let us fix it for you.
SEO
Layouts and pages are created with SEO in mind, this includes Facebook OpenGraph tags, and optimized rendering for high SERP.
Content Management
Build engaging digital experiences with intuitive content creation and management.
Advanced Security
Support for OAuth2.0 authorization code, independent from any identity provider.
Powerful API
Webhooks, Service hooks, Headless CMS support. Leveraging Sitefinity, we're able to deliver exactly the site you want and integrate with the external services you want.
Personalization and Optimization
Create winning experiences by validating them with data and tailoring them to persona behavior. Each user segment can see the personalized content of your choice.
We deal in quality, not quantity, so your solution will come with an extra layer of thought and polish; a white glove development experience.
About Us
What makes us different
When you deal with a larger partner your site typically gets sent to a junior developer who doesn't have the experience with Sitefinity that we do; we've been working almost exclusively with Sitefinity since 2008. We hold current Progress MVP status, and have held every MVP designation ever offered by Telerik\Progress. We know Sitefinity inside and out. We were also one of the very first Sitefinity certified developers ever awarded.
Here, your money goes right into the development of the site. A larger partner has managers, HR, infrastructure, salaries, so you'll be paying a premium for all of that when only a fraction accounts for the actual development.
We do a lot of subcontract work for the larger partners as well, you might have worked with us without even knowing it.
We're here to help
Your company and site matters to us; nothing will be outsourced or rushed. We're going to treat your Sitefinity CMS instance as if it's our own, and we're both going to be proud of the results.