Published on
Sitefinity 7 Review
Authors

Name

Steve McNiven

Twitter
She is out…and she is magnificent
Sitefinity 7 marks the first major release of Sitefinity IMO since the launch of 4, or maybe the surprise introduction of the module builder.  If you are not on 7.0, get your ass onto it now.  This is a release birthed with love just for you, the developer.  There's just buckets of things to care about here.  This is the second polish release, but the first DEDICATED polish release.
Related Content
┬─┬ ノ( ゜-゜ノ)  …I can finally let this one die :)  Not only is this exactly what we needed, but comes with a whole series of widgets and extension methods to help you show related content.  I'm not sure how extensive it gets however, in that, does it just show related to the shard taxa or shared+child taxa, thinking just the former.  Regardless gone are the days of a client asking to relate content and us having to open visual studio and hack in a thunder generated widget, or god forbid they need a single item selector hacking that hacked widget…OY. 
  This implementation knocks it out of the park.  Ivan blogged a little while ago about the importance of Nice To Haves.  So the new UI contains that…the related UI lets you CREATE and EDIT that related content RIGHT FROM the item you're editing.  So before if you wanted to relate a product to a recipe you'd need to create the product first, then go to the recipe and link it in.  Now you just go to the recipe and create the product, no need to be in multiple places…such a time saver.
Custom Field Normalization
"Hey, I want an image to be associated with my blog post"…pre 7.0, you get a textbox to paste in a URL, or a painful to create custom (custom) field widget.  Either way it sucked and was error prone.  However now all the native types get the Media\Related picker widgets, not just the basic ones…fantastic!
Custom Fields for Pages
Wooo!  This was always at the top of everyones wishlist, easily the top PITS item.  It would let you do things like render out a menu with an image associated to the page…or like have checkboxes where you can tell it to include jQuery or Kendo, or have an input that would let you render content at the bottom of that page…you can see the power, yes? :)
Role-based Personalization
This is a big thing for an intranet where we don't so much care about sales or driving traffic to parts of the site to monetize anything.  What it lets me do however is have a single page\url that I can use to target multiple users based on their role.  Lets take the homepage\dashboard for example.  The page on the root of the site if you're a student, faculty member, or admin you can get a completely custom page with the nice elegant root url.
Search
In the properties of a page, you can now exclude that page from the search system.  Coming in 7.1 we should get more enhancements, but this alone is big thing.  Since search doesn't really respect permissions *AT ALL*, this is a quick workaround.
Just about every component has been updated
Okay, so we're still on jQuery 1.8.3 for Sitefinity, however everything else has been updated.  This includes KendoUI which gives us fantastic things like the Sortable control now.
Content Duplication
WE CAN DUPLICATE FORMS NOW! …yeah yeah and Page Templates, but FORMS!  Forms are so incredibly tedious with needing to set Developer Names and such if you had to re-create them, god it was a chore.  We had an issue on 6.3 where "Username" became a reserved meta name so we had to go back and re-create all forms that had "Username" and change them to "ClientUsername"…I can't express to you how painful that was to do.  This would have made it a SNAP…glad I never have to go back.
Custom Thumbnails
We're no longer stuck to client-size custom thumbnails, or having everything shoe-horned into a thumbnail bucket\size.  Thumbs can be generated from the Url for an item (though the UI) so you get exactly what you want, OPTIMIZED.  So like if I have a homepage rotator that has 3 images of 2 custom sizes, but a backend with 5000 images.  Right now the only option was to maybe use background cover to scale the thing to the container or risk needing 2 physical thumbs generated on all 5000 images; understand what I mean?
Layout Control Column Labels
…just so awesome.  So you can visually edit the text inside the layouts so when users drop things around the page they're not just guessing if they have the right placeholder or not.  If you have a layout with nothing in it for example you see the nice drop-zone.   However if something is in it you don't SEE that dropzone anymore so good luck placing it in the right spot; the labels fix that problem.  You can define some text on any asp:Placeholder, custom layout, or native drag\drop layout widget column letting the user know they now have the correct spot.  So lets say you have a layout zone for Ads, you can physically call it that now.
New image\doc widget designers
Very nice…
Html5 Video
Finally we can be part of the Html5 revolution…so the only downside here is that we have to use a RadControl.  The current RadControls are a bit ghetto…any animations are jQuery based so they feel "clunky" where the kendo controls detect css animations and only fallback to jQuery.  I'm assured they're going to fix this in the next release or two, but right now…just isn't great.  At least you can actually use and promote the video module now, doesn't feel so dated.
Ratings
So the comments module now has Ratings, which is great…I don;t think we can yet change the SCALE of the ratings, however it does mean you don't need to use external tools or build your own (I've tried doing both…bleh).
Module Builder
We now have Sorting options!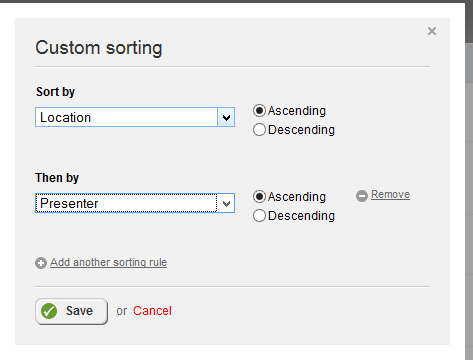 We can also delete bad types.  I have a user who did "2014 Sessions" as a type instead of making a type called "Sessions" with a date field or nested year type.  Now I can finally kill that :)
"You're logged in on another PC"
BAM…can kill this annoying user-cancer dialog with a backend config setting now…Unlimited backend users can take it further.
Service Stack 4
Yeah, Sitefinity took a dependance on the crazy fast ServiceStack library.  At the time it was open source, but when they went to a license model, telerik sucked it up and licensed it for you, so feel free to use it :)
Finally
…whatever, I'm tired of typing I'll be here all day and night, great release guys, thanks for taking the care and time.  Are there still bugs and missing features, yeah…it's a complex cms.  It's just now there's a whole ton less, and you can deliver sites faster now, because telerik stood up and started to care about you the developer (yeah, no "marketo" fluff)